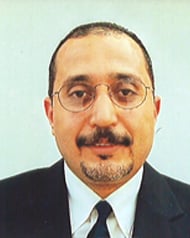 Dr. Ahmed Soliman's passion is to make people feel comfortable when they visit his dental office and to help them smile with confidence. He emphasizes a welcome and calm environment, especially for patients who are nervous or embarrassed to visit a dentist or who have delayed dental treatment. Dr. Soliman's philosophy is that it's better to see a dentist sooner rather than later because the problem will not fix itself, but he looks forward to helping patients at any time.
Dr. Soliman has the ability to relate to patients in five languages: English, French, Arabic, Italian and Greek. He considers his multi-lingual talents an opportunity to understand patients in their native language. This makes his practice unique from others in Jacksonville.
He earned his Doctor of Medical Dentistry degree from Tufts University School of Dental Medicine in 1990 and a certificate of Surgical and Prosthetic training from Harvard University School of Dental Medicine. Dr. Soliman has been practicing at Advanced Dental Care since 1992 after relocating from Boston.
During the course of his career, he has seen many advances in dentistry. The increasing use of technology such as computers, cone machines, computer guided surgery and CAT scans allows Dr. Soliman to provide personalized treatment plans for his patients like never before. Technology is a great tool, but he believes it will never replace the traditional rules of good oral health: flossing, brushing and maintaining regular check-ups.
"Flossing is the single most important thing a person can do to keep a healthy smile and a healthy life. It has been proven that flossing can reduce bacteria in the mouth which prevents a host of other oral and overall health issues," says Dr. Soliman.
Dr. Soliman's practice helps patients not only with the basics but also focuses on general dentistry such as crowns, bridges and implants. He has also added another focus to his practice: Obstructive Sleep Apnea (OSA) treatment. Dentists are in a unique position to help patients who suffer from OSA, a common sleep disorder associated with alarming health problems including heart disease, high blood pressure, diabetes, acid reflux and more.
"As a dentist, I am helping to improve and even save the lives of my patients. That is very exciting!" comments Dr. Ahmed Soliman, DMD
Specially trained dentists like Dr. Soliman treat OSA with one of the 92 FDA-approved devices that gently reposition the lower jaw to open the airway. My belief in personalized care with patients allows me to identify potential cases early, prescribe convenient sleep studies, provide and adjust the appliances, and deliver education and follow up.
OSA treatment is so important that he strives to educate patients and referring physicians about the new options available to sufferers. This is welcome news for patients who don't tolerate the noise, discomfort or inconvenience of continuous positive airway pressure or CPAP for long-term treatment, but the benefits of dental appliances go beyond that. Today they are recognized as a first option, rather than only for CPAP intolerant patients.
Dr. Soliman encourages anyone in need of dental care to stop by Advanced Dental Care and speak with him about affordable, painless changes that can drastically improve their life. Dr. Soliman believes that dentistry is not about just the oral health of a person anymore; it's really about the entire well being of the patient.
When he is not at the dental office, Dr. Soliman enjoys time with his wife and two children, enjoys playing the piano, violin, soccer, racquetball and traveling.
Education:
Tufts University School of Dental Medicine; Doctor of Medical Dentistry, 1990
Area of Focus:
Cosmetic and Implant Dentistry, Crowns and Bridges, OSA Treatment
Achievements:
Harvard University School of Dental Medicine, Department of Implant Dentistry; Certificate of Surgical and Prosthetic Training in Dental Implantology, 1987