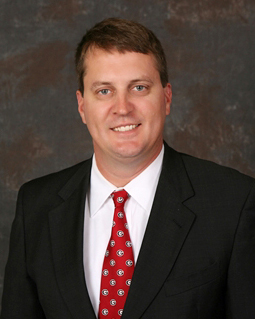 Dr. Charles Pike's passion for dentistry is a family tradition. Not only is he a third generation dentist on his mother's side, his late father was also a dentist. Dr. Pike spent many summers in Central Florida visiting his grandparents and uncle. Therefore, when the time came, it was an easy decision to bring his dental knowledge and skills to the area he had grown so fond of. Dr. Pike takes a conservative approach to dentistry and is a strong advocate of continuing education, utilizing the most current technology to treat his patients.
Dr. Pike earned his Bachelor of Arts degree in Speech Communications from the University of Georgia in Athens, GA. Not long after, he attended the Gwinnett Technical Institute in Lawrenceville, GA, and used his Dental Laboratory Technician training to help pay his way through school. He continued his education at Georgia Southern University where he earned his Bachelor of Arts in Chemistry. Finally, Dr. Pike received his Doctor of Dental Medicine degree from Nova Southeastern University College of Dental Medicine in Ft. Lauderdale, FL.
Dr. Pike is highly skilled in all areas of general dentistry. His certifications include Invisalign®, Lumineers, CEREC 3-D Basics & Advanced training and additional training in Biometrics with JVA (Joint Vibration Analysis) to treat TMD (temporomandibular joint disorder) and Sleep Apnea patients.
Dr. Pike is a member of several professional associations including the American Dental Association, the Florida Dental Association, the Central Florida Dental Association, the Lake County Dental Association, the Greater Orlando Dental Society and an Associate Fellowship within the World Clinical Laser Institute.
Dr. Pike stays very involved in his community. He has been a member of Florida Citrus Sports since 2005, and has sat on the Associate Board of Directors since 2007. Dr. Pike has also been a member of the Florida Citrus Sports Scout School since 2006. He has sat on the Board of Directors for the West Orange Scholarship Foundation since 2010. Dr. Pike is a past member of both the South Lake Rotary Club & Winter Garden Rotary Club, and is a Paul Harris Fellow. He is also a founding member of the Cure Bowl Scout school and has scouted for them since its inception in 2014.
Since 2004, Dr. Pike has regularly donated his time and skills to the Special Olympics Special Smiles Dental Screening Initiative and the Lake County Dental Research Clinic. He volunteers annually at the Orange Avenue Research Clinic and has trained Dental Assistant students for Orlando/Orange Tech since 2007.
When not spending time treating patients or doing dental laboratory work, Dr. Pike likes to spend time with his family. His wife Christine is a native Floridian, as well as his daughter Ava and son JD. They enjoy Orlando City Soccer, boating, golf and vacationing.