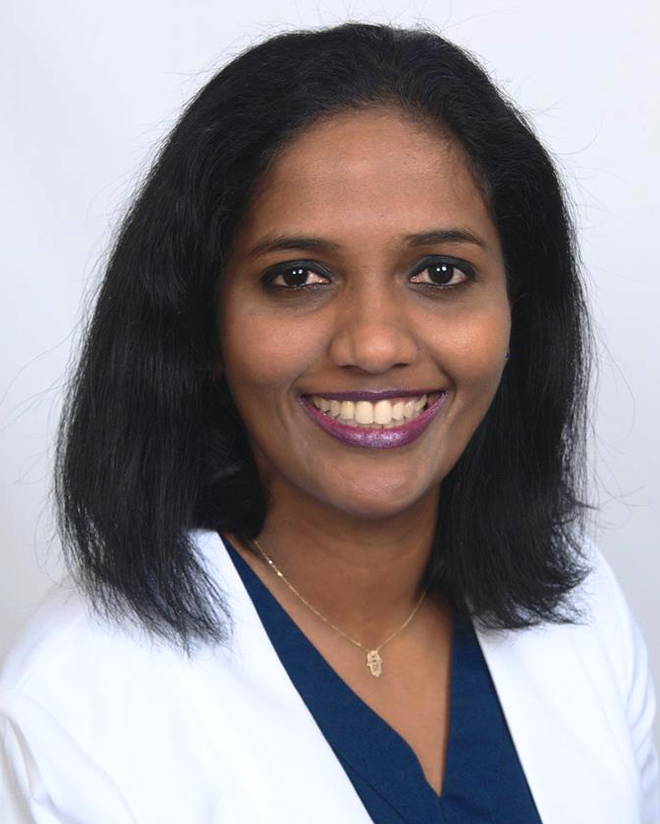 Dr. Raju specializes in the treatment needs of infants, children, adolescents and special needs patients, seeing children from ages 1 through 18. She is passionate about providing positive dental experiences to children so they have a great foundation to build a healthy and beautiful smile. She does this with a gentle and kind chairside manner, providing age appropriate explanations to minimize your child's concerns and to allay their fears. Always attentive to a child's clinical and emotional needs, Dr. Raju's approach is conservative, focusing on prevention and education in order to lead to a lifetime of self-motivated care.
Dr. Raju is a graduate of the University of Florida College of Dentistry in Gainesville, and completed her residency in Pediatric Dentistry at the University of Florida, Naples. In 2018 she was a recipient of the highly esteemed Richard C. Pugh Achievement Award from the American Board of Pediatric Dentistry.
She stays abreast of methods in pediatric behavior management and dental care and is a member of the American Dental Association, Florida Dental Association, American Academy of Pediatric Dentistry and the Academy of Laser Dentistry.
When she is away from the office, Dr. Raju enjoys reading, cooking and traveling. She has donated her time to Give Kids A Smile and Special Olympics. She also happens to be fluent in five languages: English, Hindi, Kannada, Telugu, and Tamil.
Book Online Now
Complete the form below to book your appointment today.
Office Hours
Monday

7:30 AM – 5:00 PM

Tuesday

7:30 AM – 5:00 PM

Wednesday

7:30 AM – 5:00 PM

Thursday

7:30 AM – 5:00 PM

Friday

7:30 AM – 2:00 PM
CareCredit
CareCredit is a healthcare credit card designed for your health and wellness needs. Pay for the costs of many treatments and procedures through convenient monthly payments.
Our patients leave smiling


The staff and Dr Chen stayed open just so they could take care of my daughter. Chloe really made this appointment possible! They were very patient and kind to her. They went out of their way to help her. Never had this experience before ever!!! -Dr Floyd

Shannon F.



Really love Sara my hygienist and Dr.Torres explains every detail of procedures very clearly.

Susan L.



Everyone very professional and helpful. Treatment by Dr. Ospina was above reproach. Couldn't be more pleased.

Dale V.



Every staff member from reception is to dental assistance back to check out are very polite kind caring and friendly. And my dentist Dr. Torres well he's the greatest very knowledgeable patient make sure that his patients receive The most accurate and professional services. Keep up the good work advanced dental. And thank you

Brenda J.



Love the staff!!!

Susan L.



I have been going here for a long time and I could not be more happy with Advanced Dental. Starting with just signing in. They always make me feel welcome. The hygienists are great and always handles with kid gloves. The doctor is great!! Always careful and making sure everything is good.

Gary D.



Everyone in the office is very pleasant, and professional.

Elliott Z.



Everyone was nice

Tanya S.



Sarah is awesome! She is very knowledgeable and always courteous.

Willie H.



I traveled 3 hours for dental procedures at this facility. My appointments were always on time and the staff and dentist were great!

Delaina B.



Great service and staff

Delaina B.



Very nice people

Donald M.



Everyone at Advanced Dental Care of Shady Road is professional, friendly and courteous. Thanks especially to Dr. Torres for his attention to detail, and to Leci and Chloe for their professionalism.

Dave D.



Excellent skills of the dentist (Torres) and dental assistant (Chloe) and their prompt and courteous service.

Cynthia N.



Good experience

Jean D.



Dr Chan, Chreish and Leci treated me and are extremely professional and have saved me money by not doing procedures that are not necessary. In recent years I have been to different dentist do to my traveling and it always seems that they all want to do expensive procedures. Dr Chan does what is necessary and no more . Their office is very clean and sanitary.

John P.



I had another great experience having my periodontal maintenance cleaning performed by Sarah. She takes her time to do a very thorough and comfortable procedure. I would definitely recommend Sarah for teeth cleaning!

Joseph V.



Dr Chan is very patient and professional. Maidelyn is friendly and gave me the instructions I needed to know for my temporary crown.

Dang P.



The perio team, Dr. Reddy, Marie,and Jennifer were wonderful and made me feel really comfortable!

Elizabeth V.



All the staff, from the front desk, to financial, to hygenists, to Dr. Larkin, have all been exceptional. They have consistently made my children feel comfortable and safe (my daughter actually said she loved the dentist after left!). They have been very helpful to me in making appointments, answering questions, and getting to the bottom of insurance issues. I would recommend this pediatric practi…

Brynne L.



I am completely satisfied with the level of atention and care I've gotten from both the staff and Dentist.

John B.



Friendly and caring staff

Delaina B.



They are great. My only complaint is my own fault. I never floss!!!! Lol. They are so nice and very good at the cleanings. Sarah is the best

Brandon J.



Dr. Chan and Melissa are awesome. They are kind,considerate and always have the patient's well being in mind. They are professional and made my appointment a positive dental experience.

Larry D.



Dr .Chan and his assistant Melissa are an awesome team , they did and still are (in progress) doing a fantastic job on my husband Adam's teeth. Will recommend Advanced Dental to my friends and co-workers. Thanks Melissa and Dr. Chan!!!!

Elizabeth W.



I have found the entire staff to be kind and caring! Jennifer is always helpful and kind and Judy rocks!!!

Stacie S.



The staff here is great! Going to the dentist has always been a fear of mine but i actually left this place with a smile on my face. A huge thank you to Leci!

Destanie P.



Absolutely love Sara she does an amazing job on my teeth- I'm very happy with the service they provide!

Annie B.



Absolutely love my dental hygienist (Sarah) . She is one of the best that has ever treated me.

Susan L.



Jennifer and Melissa are the Best, very Helpful… i Highly recommend this office!

Paula R.



Most professional office staff, the BEST hygienist and my very favorite dentist, Dr Torres!

Patricia P.



Caring, skilled professional staff that takes great care of their patients!

Barbara K.



I am very pleased and happy that I came to this office. Dr. Chan and his assistants; Melissa, Lese, and Sarah are very nice and are very caring individuals. They are highly skilled and very thorough.

Barbara K.



My daughter loves visiting all the wonderful ladies in the office.

Cortney L.



Dr. Ospina and his staff did a terrific job with the extraction of my tooth in preparation for and implant.

Dale V.



Dr. Ospina and his staff did a terrific job with a tooth extraction in preparation for an implant. The entire process was thorough, efficient and overall pleasant considering the type of work done.

Dale V.



Friendly staff, prompt appointment time, treatment plan explained, scheduling for services easy.

Delaina B.



Everyone at Advanced Dental Care of Shady Road is professional, friendly and courteous. Thanks especially to Dr. Torres for his attention to detail, and to Jenny for her precision and knowledge.

Dave D.



Great teeth cleaning and the hygienist was very friendly

Yelitza M.



The staff is very friendly and knowledgeable.

Janet W.



Personal experience.

Phyllis J.



The staff is wonderful!

Chris E.



Office staff is great, comfortable and educated with great knowledge of assistance in the field of dental issues.

Pebbles V.



Dr. Torres is a dynamo and my hygenist is professional and friendly.

Patricia P.



Professional yet personal. All questions were answered to my satisfaction. My comfort was considered in the treatment plan. Felt proper technique was maintained. Clean and comfortable environment.

Donna R.



My teeth cleaning was awesome. The tech that cleaned my teeth was professional, polite and very knowledgeable about her profession

Douglas R.



Nice caring people

Gerald W.



My spouse and I have been a long time customer of Advanced Dental Care and seen many Dentist come and go. The standards continue to reamain high.

Walter L.



I am so impressed with the friendliness of the staff, and the quality of the doctor's. In this crazy world, it is really reassuring to find someplace I can trust.

Bonnie E.



My family and I love the staff and especially the office manager. She makes sure that we are taking care of and the environment is family friendly. We love our dentist family❤️

Isaac W.



Melissa was very down to earth and did a great job with my teeth.

Yamil R.



Sweet and kind dentist

Joel M.



Excellent staff. Good doctors.

Susan L.



Everyone is very friendly and informative!

Lindsay E.



Very professional staff and the doctors explained all my options and cost before my procedures.

Robert O.



Very friendly and efficient. Prompt service. Didn't push unnecessary products or procedures

Peter G.



Great customer service

Cristina L.



Courteous service and gentle procedures.

Theresa H.



Judy the hygienist was great. All the people there are friendly and professional

Stacey R.