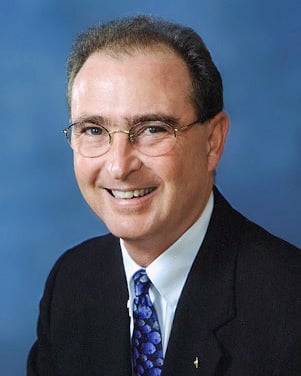 With over twenty-five years of experience in Orthodontics and dental care, Dr. Gerard Perret offers expert knowledge and care when treating patients. His comfortable chairside manner can ease even the most anxious patients, giving them the smile they have always dreamed of. He is a familiar face around the community having lived in Tampa since 1991.
Education:
Louisiana State University School of Dentistry, New Orleans, LA; Doctor of Dental Surgery, 1986; Certificate in Orthodontics, 1989
Dental Area of Focus:
Orthodontics
Notable Achievements, Certifications, Recognitions:
Louisiana State University School of Dentistry, New Orleans, LA:
C. Edmund Kells Honorary Society
Omicron Kappa Upsilon National Dental Honors Society
Robert F. Eastman Memorial Award for Excellence in Operative Dentistry
Awarded 4 United States Patents – 3 of which are currently marketed orthodontic products
Honored with biographical publication in the following Who's Who references:
Who's Who in America – 2000
Who's Who in the South and Southwest – 1997
Who's Who in Medicine and Healthcare – 1996
Who's Who in Science and Engineering – 1994
Community Involvement:
Charter Member – New Tampa Chamber of Commerce
Charter Member – Rotary Club of New Tampa
Cornerstone Member – New Tampa YMCA
Trustee – Rotary Club New Tampa Foundation, Inc.
Silver Sponsor – Friends of the New Tampa Library
Hobbies and Interests:
When not in the office Dr. Perret enjoys fishing, sailing, listening to music and baseball. Dr. Perret has been married to Catherine McMahon since 1996 and they have one daughter together. They especially enjoy watching their daughter's volleyball activities.
Book Online Now
Complete the form below to book your appointment today.
Office Hours
Monday

7:00 AM – 5:00 PM

Tuesday

7:00 AM – 5:00 PM

Wednesday

7:00 AM – 5:00 PM

Thursday

8:00 AM – 5:00 PM

Friday

7:00 AM – 5:00 PM
CareCredit
CareCredit is a healthcare credit card designed for your health and wellness needs. Pay for the costs of many treatments and procedures through convenient monthly payments.
Our patients leave smiling


The care I received was of the highest quality. I was getting braces put on and Lisa and Dr. Perret were wonderful.

Stephanie D.



Had an appointment on 1/31/18. Staff at front desk was very friendly. I was greeted with a smile . Wait time…. 2 minutes if that!! Dental Tech was really pleasant and made me feel soooo comfortable. Dr Herron greeted me with a handshake and smile. And went over the treatment plan and offered other options. Which worked out Great!!! I wish I came here first , instead of going to Tampa Health…

Cheryl A.



I was pleased that I got taken back early as I had arrived 15 minutes early. Dr. Herron is always very conscientious of her work & takes her time getting the crown & buildup just right. Her assistant was very professional also & took the time to explain everything she was doing.

Brady S.



My son & I love this office! The staff is friendly, knowledgeable & courteous. From the staff, to the hygienist, to the ortho: Awesome Sauce!!

Excuse M.



I just want to add to my last review. I've lived in several states and in several countries, and I am a senior so over the course of a lifetime I've had many dentists. I want to take this opportunity to highlight my appreciation for the work of Dr. Jurgita Herron who is one of the two best dentists I've ever had. Her work is excellent, and she takes the time to study carefully th…

Richard R.



Everyone is so helpful and its close to usf!

Sokka249



Exceptional customer service! Exceptional expertise and quality dental care. Thank you!

Jackie G.



Absolutely love everyone!!!

Cindy C.



Everyone is extremely friendly. The work they do is excellent.

Shadrock D.



Very satisfied with the services

Deborah B.



Friendly staff, very little wait time, excellent care.

Elizabeth G.



I have been a patient for almost 5 years. I Absolutely love my dentist!!! Gentle, kind, caring. My teeth & gums are extremely healthy. At 45 I get compliments on my smile all the time! No cavities, caps or bridges! I don't ever intend to leave

DJ G.



Very friendly staff and I like their quality of work.

Stacey W.



Moses is always professional, very detailed, and caring with my teeth.

Carol B.



Friendly front staff and always happy with my cleaning. I never feel pressured to get additional services.

Arlene C.



Overall all the staff were very polite and cheerful.

Neetu K.



I think I have been a patient of this office, Dr Herron and Elaine for over 10 years. I couldn't be more pleased with all the procedures I have had done here. The staff is always so friendly and accommodating. Thank you!!

Angie L.



Usually get to my appointment time with very little waiting and always flexible if I have to change date or time.

Judy A.



The staff are very efficient and patient!

Elizabeth M.



Good, quick and almost painless.

Syblie W.



Dr. Herron is a superb technician with a very engaging personality. Kim possesses excellent clinical skills and is very friendly while Alycia has great customer service abilities. I finally found a dental office I actually enjoy visiting.

Kim P.



The best service anyone can expect, I called to say I was running few minutes late. The front office rep was understanding & acknowledged my request. I showed up & was treated professionally, I was seen right away I received the best hygienic cleaning I had for a while. This is the best dental office I have ever had. I have been a customer for 4 years. I really appreciate your exceptiona…

Nabil E.



The care and concern were beyond the hygienist's job. He cared about my dental health.

Valerie C.



Very helpful staff… front desk, dental assistants, and dentists. They answer all your concerns. Enjoyable visit

Kayann D.



Detailed explanations and pleasant staff.

Elizabeth L.



Because I really liked to staff . Very friendly and kind

Lorene A.



Everyone in the office is friendly and knowledgeable. I was very nervous about going to the dentist but Dr. Herron was kind enough to talk me down! I have been back for multiple visits and always greeted with kindness. They accept a variety of insurance plans and will work with you to find the most affordable way to take care of your teeth. I highly recommend this office with an even greater empha…

Sam T.



All the staff was extremely friendly, and they worked with me to get my filling done the same day as my appointment since I already had all my paperwork. I can't tell you how much I appreciate that, as I had limited time in my schedule to come back!

Jaime M.



Competent, professional work at all levels.

Alan B.



Professional and courteous staff.

Rosemary P.



Just a great atmosphere and all the people that work there a nice and they do great work!

Quentine R.



Kind, professional staff

Patricia J.



My hygienist Elaine is the best – very professional and caring – she has worked for years trying to keep my teeth and gums as healthy as possible Please pass along my appreciation for Elaine

Mary M.



Great Staff and outstanding service

SHELIA B.



Very nice people, didnt keep me waiting long, very clean, and great work just a great atmosphere!

Quentine R.



Hygienist(Elaine) does an excellent job cleaning my teeth. She is also very friendly.

Shirley M.



Dr. Herron is the best. She listens, takes her time and I have had a great experience with her.

Debbie S.



Marissa and Dr. Herron made my experience great! I highly recommend this Dentistry.

Andrew S.



Overall service excellent. Receptionist was pleasant/prompt. Mosen always does a great job cleaning my teeth. He does an excellent job balancing getting the job done expeditiously while at the same time being engaged verbally with me as patient. His assistant (her name escapes me) also does a great in providing final service following cleaning.

Bruce B.



Nice people, great service

Elizabeth N.



Because they treat me like an special person and always with respect.

Maria L.



Awesome Dentist and Staff. I would recommend this office to anyone.

Yasmin T.



Experience was great

Kimella L.



Make me comfortable so visits are less stressful.

Tamara H.



The staff was friendly and helpful. The doctor and her assistant were confident and expedient.

Ernestine M.



Knowledgeable, professional and courteous Staff.

Rosemary P.



I had an overall great experience here when recieving my Crown. It's been years since I have last been there but their work is quality! I moved from the area and just received dental work on my crown. They examined it for about 5 minutes and exclaimed it was the best looking crown they had ever seen with exact lines of detail and even a frosted tip as my other teeth are. Because of this, I figur…

Cory W.



Everyone I interact with, are consummate professionals & treat me with courtesy & understanding & also are very knowledgeable. The dentistry work is stellar.

Louis C.



Elanie is awesome!

Kristin S.



Great service and a friendly staff

Juan G.



Professional staff and honest dentist. I have never felt pressured to do anything I felt was not necessary.

Colleen S.



Elaine is fantastic! I've been going here for a number of years and she has only gotten better. Kudos to her and the entire crew.

Edward B.



Fast friendly and convenient.

Ernestine M.



Friendly staff and great service. Moses was very efficient.

D'andrae M.



Great employees.

Philip J.



The service, expertise, and level of care received is superior to other dental providers I have used in the past.

Rachel Z.



It is an exceptional and professional approach, I like going to my dentist's office feel very confident. My whole family is visiting this office for more than 5 years and I always recommend them to friends and relatives. Thank you!

Elena V.



Always great service and customer care.

Kyla N.



Timeliness of adhering to appointment time and convenient hours.

Theresa H.



Patience, confidence and friendliness of staff.

Ernestine M.



All personal are very professional, thoughtful, and kind. I have been going to Elaine for years, on a scale of 1-10, 10 being the best, Elaine is a 12!!

Bill H.



Great staff, flexible appointments, take my insurance

John O.



Excellent service. Friendly staff.

Martin G.



Dr. Herron and her assistant were excellent.

Gina N.



The dentist is absolutely phenomenal!

Samantha T.



Everyone in the office is professional and they all know and show that to you personally

Allen S.



Great Customer Service and Friendly Staff

Beverly H.



I love my dental office

Barbara B.



In and out, very informative and very nice

Sally S.



The expertise of the providers in my dental care delivery.

Joann H.



Moses, my dental hygienist, is very nice and he truly cares about the health of my mouth.

Constanza L.



I love love this office. Dr. Herron is awesome as well as all the staff I have encountered during my visits and family visits. Monica, Kim and Alycia have assisted us the most, I would like to say Thank you ladies for always making sure we are taken care of. I would recommend Dr. Herron to everyone. She's very gentle and caring.

Shanda L.



my visits have always been pleasant. office clean and personnel polite. my questions are always answered.

Carmen V.



Professional attitude of staff members and dentist.

Terence W.



Great service. My hygienist was Mose who was very nice and professional. He did a great job with my teeth. I was very comfortable and he and his assistant got me out of there quickly. Good job.

Patricia P.



Mosen does a great job cleaning my teeth.

Darryl G.



They are very good

Samira M.



My son got in quickly and was done in good time. He had a good experience and likes the office personnel.

Micah C.



I am treated well

Lee H.



I have been a loyal patient of Advanced Dental Care since 2004. Their entire staff is very professional and friendly.

Karl U.



love you all and the service you give

Deborah T.



Fast, friendly, efficient

Laura F.



Because I think the overall experience was very good.

Annette J.



I don't generally recommend. Dr. Herron is excellent & her assistant, Kim Wood is also excellent & very helpful. Mosen also does a very good job.

Doug K.



Knowledge and great personality of Monica and Doctor.

Rose H.



Care and wonderful staff.

Martha P.



Timely and friendly. Elaine did a good job on cleaning my teeth.

Judith T.



Everyone was caring and compassionate

Bruce W.



I needed something done and you got me in quickly. everything went as expected

Stephen B.



regular cleaning plus two fillings (planned) Comments: Elaine and Amanda are fantastic – do everything possible to keep them!! Dr. Herron is excellent, professional and knowledgeable.

George N.



I was used to the same level of service for many years but my recent experience there was fabulous. Both the dentist and hygienist were very attentive and they took their time while providing my care. It opened my eyes as they provided me with great customer service and I will request the two of them whenever possible moving forward. Something else that I like about this office is that they do not…

Wanda C.



Staff was friendly and explained all cost

Jackson W.



The staff is super friendly and really fast

Crystal S.



Staff, location, professionalism.

Jacqualine L.



On time . Minimum wait time . Out in less than 1 hour

Christine E.



Your service was excellent and the staff was outstanding.

Lee O.



Everyone from the receptionists to the Hygenist to the Dentists are all wonderful and professional. I would HIGHLY HIGHLY recommend them to everyone!!!!!!!

Chuck W.



Friendly, efficient, competent, clean office.

Barbara M.



Always a pleasant experience! My highest recommendation.

Jeffrey B.



I feel comfortable with staff and Dental place

Vivian S.



Excellent staff. I have been using Dr Heron for years and have chosen not to go anywhere else even though the distance is pretty far away. Mosen does my cleanings and he is excellent.

Marsha C.



Excellent customer care, place is very clean and comfortable. Waiting area is clean and comfortable too. Office open early in the morning and that is a plus for me. Waiting time is short. Staff is friendly and knowledgeable.

VIVIAN S.



love the way I'm treated and the work that is done

Deborah T.



Dr Heron is the best dentist I have ever used

Margaret C.



I came in for a second opinion regarding the fit of temporary dentures that were done in another dental office. Both the assistant and the dentist were very knowledgeable in their explanations and answered my questions thoroughly. Both seemed very willing to take the time to make sure I got the information I came for. The dentist offered several suggestions and her intelligent opinion of steps nec…

Diane H.



I am always treated promptly and respectfully.

Jeannie C.



I believe the service received was great!

Aziza R.



always get great treatment

Deborah T.



The office was very informative and courteous and professional. The wait time was minimal which I love.

Ruby B.



Every single person at the office is fantastic and nice!!!

Samantha T.



Lovely staff and dentists. They were all very transparent and honest when I asked about my procedures and work done. CIGNA Dental insurance was accepted. I was only scheduled for an examination but was able to get a filling replaced and a cleaning all in the same trip. They even emailed me my X-rays upon request right as I was there so I could view them on my phone. I would highly recommend. I liv…

Tin N.



Always love coming to this office. Everyone is friendly and professional!

Aimee F.



I have the best dental hygienist!

Andrea R.



Knowledge & kindness of the staff & the physician.

Jacqualine L.



The doctor and her staff are knowledgeable and care about me as a person.

Joel P.



The staff! Very friendly and professional people who work in every role make a typically uncomfortable experience — sorry, but who really likes going to the dentist?– quite pleasant.

Laura K.



Always get in quickly and have a great cleaning from Miss Elaine! Friendly and professional staff. Easy to get an appointment.

Melinda J.



Mosen always does thorough and effective cleanings and is committed to his patients' oral health.

Sabrina P.



Short wait, expertise and professional attitude of personnel

Valerie H.



My Hygenist Mosen is the Best in the business… He is always gentle yet thorough and he is honest with telling me the best approach to keeping my teeth healthy. Great Work and Team at this location

Latoya P.



My dental hygienist was nice, gentle and knowledgable. The Dentist Dr. Koshi was very good and friendly.

Jeannie C.



The staff was very good

Hinali P.



Very professional

Hong G.



The dental hygienists I am assigned each visit are great. They make you laugh and relax.

Tamara H.



My hygienist is wonderful. She fully understands how sensitive my teeth are and goes above in making me comfortable. These days it is rare to come across a health professional that tries to understand you.

Jeanette B.



Dr. Koshi is a great dentist. She really cares and listens to your concerns and takes her time.

Terri G.



The tech and doctor are both very personable and friendly. The care is top notch. I'm very pleased with the care offered by both.

Kathleen P.



Always explain everything and never waited for my appointment more than 10 minutes. Staff very friendly.

Susan A.



I thought my appointment was at 3:00, but it was supposed to be at 2:00. I was still able to see the dentist by 3:15.

Judy A.



Don't need one..you always give good service

Richard M.



Courteous, friendly staff… Knowledgeable doctor!

Martha W.



providers I trust, feel comfortable with, clean office, recognize my time frames and take me on time

Carole M.



Elaine is a professional of the highest order.

James L.



Staff was friendly; hygienist was WONDERFUL!

Julie B.



Only had to wait a few minutes for my appt. Mosen is a great dental hygienist, very thorough. Friendly staff and clean office.

Valerie F.



Excellent. Service

Kenneth J.



Due to the Hospitality and profession approach of the office Staff and Doctors, along with their Knowledge

William C.



I've been with the practice for years. I like Dr. Herron's manner, and I like Elaine's service when she cleans my teeth.

Russell P.



My teeth cleaning was Very thorough and Haendel's sensitively and thoroughly

Page E.



Dr. Herron is great

Robert M.



Great people to work with and really care.

Carl S.



Professional, courteous service

Tonja B.



Everyone is kind and do a good job.

Evie W.



Satisfied with service

Jamil J.



Prompt polite service!

Elizabeth M.



just because you're all awesome!

Deborah T.



Because of the friendly staff and attention to the patience dental needs and concerns.

Eugene S.



In all the years my son and I have used Advanced Dental we ahve not experienced unprofessional service and they are patient with my son who has developmental disabilities.

Michael M.



Monica was amazing she soothed my fears and made so comfortable!

Chanelle H.



The staff is excellent. Very polite and knowledgeable.

Dione N.